It took us around 45 minutes to reach the Turtle Island from Nusa Dua beach.




By the time we reached there, there were already a lot of boats that fetched tourists "parked" there.

Before we headed to the Turtle Sanctuary, I took some photos of some of my friends...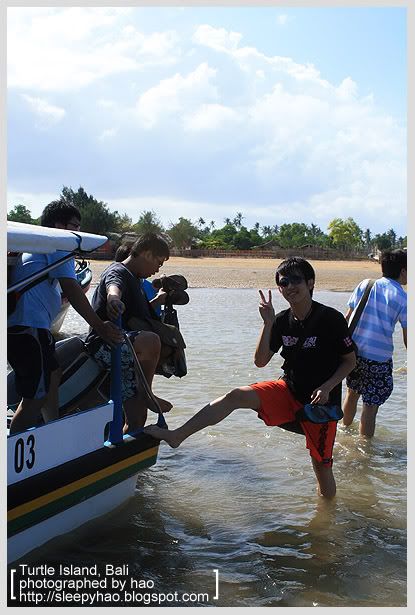 CJ doing the dog-pee pose.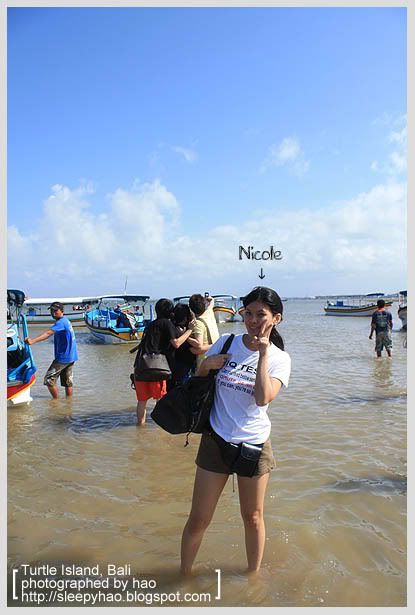 Ming Jie and Nicole acting cute.

After uploading their pictures (Ming Jie & Nicole) onto my blog for some times, now they're asking for publishing fees. As you can see, Sleepy As Usual has little visitors and doesn't earn much from Nuffnang advertisement. No money how to pay them lah if liddat?

So readers (if there's any), please do me a favor so that I can continue posting their ugly funny pictures in my blog. Here are two things that you can help:

Whenever I post pictures of Nicole, please please comment that she looks pretty in the picture as she always complain that she looks ugly in the pictures. I know your parents taught you guys not to lie, but... but... if I can't upload her pictures, I don't have anyone to make fun of praise anymore.

As for Ming Jie, she mentioned that she prefers to stay low profile. She even threatened to kill me once after I posted her pictures. So what I need you guys to do is whenever you see her on the street, just pretended you never seen this person from this blog. Don't bother to go up and say "Hi" after you recognized her through my blog. It's ok to be lansi. Even if I posted her pictures with her name in it, kindly leave some comments like "Who is she?" or "What's her name?" in the comment box so that she feels she still remain anonymous. Ok?

*Don't take those seriously ah, I'm just kidding*

Back to Turtle Island

I was wandering around in the so called Turtle Sanctuary (remember why I put a "" signs in the previous post?) and I saw this




10 to 20 turtles are kept inside an almost dried up pond filled with sand. Turtles are marine animals, they need water! They can't even give the basic needs of a turtle and they can even called themselves as "Turtle Sanctuary"?! WTF!!




Some of the turtles were struggling for water, dipping inside any pool of water they found eventhough the water level reached to their chin. Some of them just lied on the sand, as though they are giving up the will to live.




It's very sad to see them living in such a torturing place.

To make thing worse, when we were about to leave the Turtle's Hell, the workers even stopped us from exiting and forced us to donate some money to them. They would not let you passed through the exit until you've slipped the money into the donation box. If I'm not mistaken, they even asked for a minimum of 5000 Rupiah. I don't mind to donate if they really take care of the turtles, but after looking at the condition, I don't even wish to donate even if it's only 1 Rupiah. In the end, I just threw in the smallest amount of money in my wallet, 1000 Rupiah unwillingly and left that misery place.

I urged that future tourists to stop visiting that place after looking at the conditions of the animals there. Stop giving them support, may them closed down the "Sanctuary" to end the tortures.