After the visit to the Holy Spring Temple, we headed to another temple, which is known as Goa Gajah, literally translated as Elephant Cave. However, you can't see any elephants there. Our tour guide, Su, did told us how the name comes from, but again, yours truly has forgotten bout it. Hehe...




To reach the temple, we had to go down the long stairs that leads to the temple.

The first thing we saw when we came down of the stairs is rows of stones, arranged on top of each other over a space. Surprisingly, yours truly still remember what Su told us the reason they arranged it like that (Bwahahahaha! I finally remember something!! Bwahahahahaha!!!).




The place there is actually a temple, built with stones. But after an earthquake occurred, the temple collapsed. The Balinese try to rebuild the temple but they couldn't remember how the temple looks like. So, they just arranged the remaining stones and left it there. Apparently, it turned out to be some kind of an artistic structure.




There's some sort of thing that look like the one we've seen in the Holy Spring Temple. There're two ponds, with three statues each and each with water pouring out. I don't know where the water comes from though.




Finally, the Goa Gajah! This place is used to be a place of meditation for monks. After it was turned into a tourism spot, the monks left. Reason? How to meditate in an environment like fish market after the noises made by the tourists? It was stuffy inside though as there's no windows inside the cave(duh!). It is very dark inside too so no pictures inside the cave.

As we were going to leave the place, suddenly i saw something! I saw a MODEL...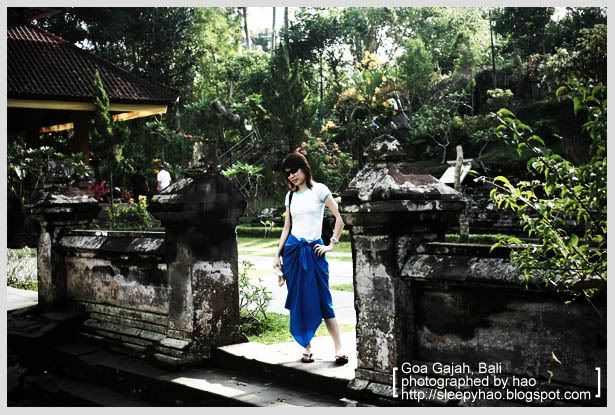 ... wannabe posing!

Damn chio can? Like want to rapekill people liddat...

Eh Ming Jie, you got send your resume to Ah Long Pte Ltd or not? With that kind of chio pose and look, you sure kena hired wan. Hahahahahahaha...