It was a hot sunny day as we departed from our hotel to Nusa Dua beach in Bali. Nusa Dua beach is packed with water sport activities like banana boats, flying fish, jet skis... A lot of tourists were there when we arrived.




Our event for that day was to have a glass bottom boat ride to a "Turtle Sanctuary" located in an island nearby. Oh and do you notice the "" sign? I'll show you what it meant in the next post.

*Back to glass bottom boat ride*

OMG! How cool does that sound? Glass bottom boat ride!! Which means you get to enjoy the scenery belows the sea, looking the marine fishes swimming around the beautiful corals on top of the boat!




Everyone was thrilled! All of us couldn't wait to board the boat. We were hoping for some turtles swimming pass underneath our boat, or sharks, or even mermaids!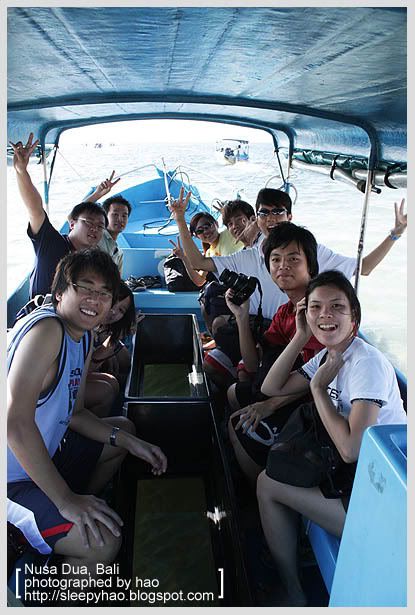 And only we boarded the boat, it was a disappointment. Look at the two pieces of glass glued on the floor of the boat. Damn pathetic man! At first I still think that the whole floor is made of glass, where we can see fishes swimming right underneath our feet.




For the first few minutes, we only get to see sea grass, and with some stones and sand -_-"

And after some time...




Finally, we get to see some fishes!!! The fishes can be counted with our fingers somemore!!! And it only last for like, less than 2 minutes.




There's even more fishes swimming next to our boat. The glass is totally useless. All you can see are just few fishes, dead rocks and sand. That's all. Disappointing only.

The views outside the boat are a lot more pleasant. Should've break the glass and let the boat sinks. That'll cover up the money wasted for this boat trip... LOL




Luckily there were something else for just to enjoy, or else we'll be bored to death. The sea is quite busy with boats and ships though.




There's even a kelong in the middle of the sea.

Another boat, with our another group of friends, overtakes us...




Wahh, mouth open so wide, really makan angin ahh XD